This quarter I started off by linking up with 18 goals and I am happy to report that it was a very productive quarter -- I completed 14 items, meanwhile 6 projects are in the works and 6 things weren't started.
Completed
finish up the Stash Bash Revamp project -- I came so close to finishing it last quarter and knocked this one out early on in April in time to take it to the Stash Bash.
the 2nd item that will be in my Kitten mini swap -- The mini sew together bag turned out great and my recipient was very happy with her package.
the spell bound quilt is currently in the process of being quilted -- Has been finished and is ready for Halloween
Sew together pouch as an angel gift -- completed
I made a few little pouches for gifts
My awesome roomie from mini bash also got a pillow gifted to her
I also managed to make a few Hour Baskets to gift while at The Stash Bash for our awesome cooks.
(here, here and here)
I want to finish up my Tula Sampler Quilt -- I got the sashing finished at Stash Bash and won long arming so it went off to Florida with my friend Kira and when it came back it was awesome. Now it's all finished.
I'm still needing to finish up the blocks for Wanta Fanta -- not only did I complete the nearly 30 extra blocks I needed but I sent it out for quilting and she is wonderful.
One swap that attracted my attention was an Alice in Wonderland Swap, I paired up with Karri and we made this a private swap instead.
Completed one of the scrappy trip along quilts that will be heading off to charity
Items that are in the works
I still have the Scrappy Cross roads in my basted pile -- sent off for long arming
There is another scrappy trip along quilts for charity waiting to be quilted
Moda Love Star waiting for quilting
I hope to get back to tessellations and finish up the other half of the blocks to start planning a layout. -- still 30 blocks to go
Moda Modern is still hanging around and it's looking more like it will be an abridged version of this huge quilt -- I have about 1/2 of the blocks completed. -- untouched this quarter
Lucky 21 is something that's still hanging around. -- It got started at stash Bash and the HST units are trimmed.
Still sitting unstarted
Swoon is still on my want to make list and I am thinking about
changing up my initial plan and incorporate a solid
for the diamonds
in with all the prints from Rock N Romance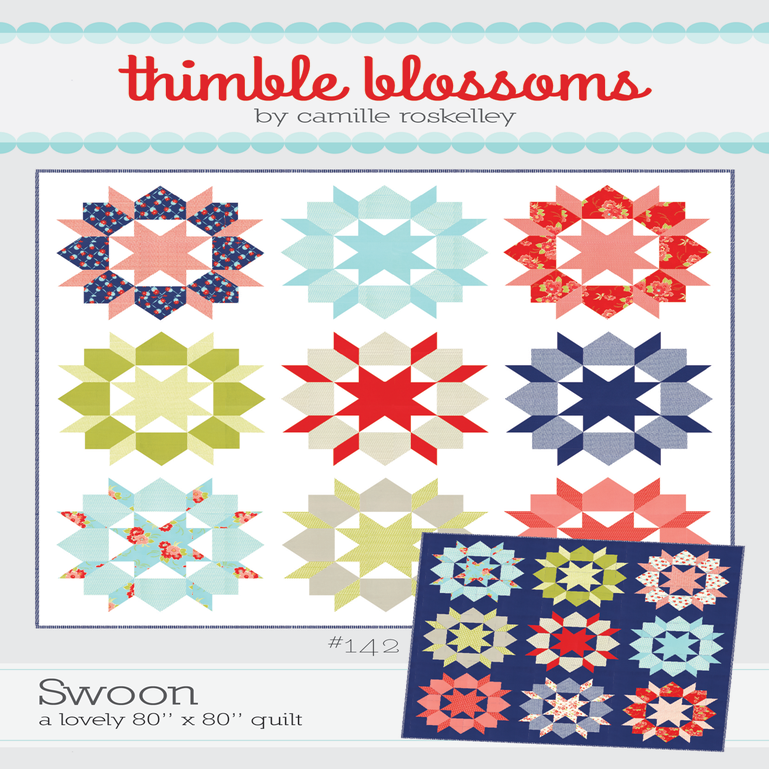 My sister has requested a cross quilt that she saw online -- no pattern for this one, just the image so that should be fun.
I'm looking for a project to use my Proiry Square fabric -- I now have a pattern in mind and hope to start on assembly
Kate Spain Christmas Spectacular quilt -- North Woods comes out in June, so really this is a 3rd qtr goal but I could go ahead and start sewing all those HST that this project will entail. -- I was able to market sample charm pack and hope to start on this very soon.
I want to start working on the bag pattern I got for Christmas
I will be making a first year clothes quilt for a little girl, whose mom really loved the one that I made for her brother. -- turns out I went back to the dentist in June so this is now a 3rd quarter goal
So plenty of progress and several completions but lots still on the list. I'm trying to finish off things before starting new projects and I'm finding this to be a difficult process for me. As I'm looking forward I have a few swaps coming up and small items to make that will hopefully keep the creative juices moving.
I'll be linking up these finishes with the 2016 FAL