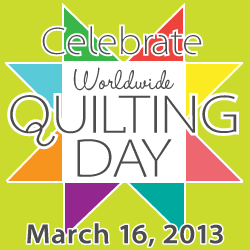 I am planning on sewing the weekend away in honor of National Quilting day Saturday (I'm making it a weekend event) and so that means I need to prioritize my UFO list as to maximize my progress.
1. March block of the month needs to be completed (30 minutes)
2. Prince Charming needs quilting (1 hour) and binding -- ick (1 hour)
3. Covert Robin: finish project 1 (30 minutes) complete project 2 (2 - 3 hours)
4. Catch up on Bible Studies blocks -- only 2, 6 inch blocks behind (1 hour)
5. Square up and stitch together storm at sea (2 - 3 hours)
6. Complete star wars borders, backing and sandwich together (2 hours) -- gotta make room on the design wall
7. Put together Elephant parade blocks with sashing (2 -3 hours)
8. Quilt Blooming flower (2 - 3 hours) bind (1 hour)
9. Piece blue modern charity top (2 hours)
10. Quilt City View (5+ hours) -- yeah this might not get done
11. Start 1980's swap project
Not including the big quilt that's 15 to 20 estimated hours of projects -- let's see what kind of dent I can make in that in the next few days.
I'm going to make a run for a few things tonight so that finishing up items is possible and also need to gather items to plan out my 80's swap item coming up next month. Those ideas are coming together just not as cohesively as I had hoped -- maybe once i get some fabrics the design part will start to work its self out more. Feel free to check out my Pinterest board dedicated to this project. My swap partner wants something to tie into modern decor in neutral colors -- this is the stumbling block for me. When I think 1980's neutrals do not come to mind but I have a better color pallet in mind using creme, white, navy, chocolate and rich lime (not neon). I did see a fun project that I might integrate into this one involving dying fabrics using crayon as a relief to put quotes / lyrics onto fabric from another blogger.
I keep telling myself I will not start another project until some of these are complete but there are so many ideas waiting to get out of my head and the desire to reorganize (and dare I saw purge) my fabric stash. I keep seeing more people using the comic boards and love this idea. I had previously used a method similar but smaller bolts and everything ended up being different sizes because of the bulky folds. When I had my fabric on CD shelves this was fine but once I moved into my other room they are now in a dresser and this isn't working as much. Not to mention that currently my stash runnith over at this time and hubs is starting to give me are you crazy looks when I talk about new fabric like comma, posy and wordplay --- that I usually would have stumbled upon them in the local shops in time but have been introduced to by some of my fellow bloggers, we won't directly say enablers but you know who you are, and you are appreciated just the same.
Some happy news -- I did win my first give a way this week and look forward to the arrival of my pickled kitty from the wonderful Amy. No it's not really a pickled kitty, she's keeping the kitty and sending me some pickles along with this beautiful pillow case. Also, It looks like I will also be receiving another traveling stash box in about a week -- and the funny part is it's the one I sent out not to long ago with new goodies added. If your not sure what these are check here and be sure to look for my post coming up soon when I receive the box for your chance to be the next recipient.
In other news -- I nearly signed up for sew south earlier this week when another ticket came available but it didn't work out (stupid tax bill). I will start saving up and focusing on the sewing expo in Raleigh in a few months instead, anybody else planning to go to this one? It was a great time the short amount of time I got to go last year.
Happy Friday and Happy Quilting Everyone!!