Recently I participated in the
it's a Sister thing
swap hosted by Michelle over at
quilts from my crayon box
. So a big thanks goes out to Michelle and I hope that she will host another swap like this in the future because it was a lot of fun learning about another blogger.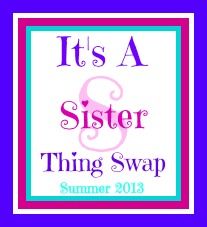 My package arrived earlier this week from Kim at
geek stitching and I was truly surprised at the lovely items that she stitched up for me, I need to find a place to hang them in my crafting space.
If it was a mystery to anyone I LOVE Alice in Wonderland and that Cheshire Cat is adorable. I am always impressed with hand work because it is something that I have never tried before but it is something that I would consider trying. She even picked up on my how much I enjoy a good pun and has added to my Alice collection. Great job Kim.
Now my package went off to California and I anxiously watched as it bounced around the California postal service waiting for delivery -- eventually arriving 3 days later than expected. I had the Amazing Stephanie from
Quarter Incher whom I had become accustom to through another swap from flickr. She does such great work and loves color as much as I do so there was a bit of anxiety about sending my package to her and hoping she would like it.
Her reveal post is
here and I think it was a success.
Again a big thanks to Michelle, Kim and Stephanie for making this a great experience. I'm starting to look for a few more swaps to take part in in the next few months and as always I like input from others.
Happy Quilting Everyone. I'm hoping for another weekend of quilting because I have a commission quilt to finish and a guild swap item to work on but we may be heading to Greenville for a family medical thing.