A big goal for me for 2016 is to continue to use more than I bring in, in regards to my fabric stash. Last year I felt pretty good about the 150 yard decrease that I was able to accomplish. My husband and I are starting to change our focus more toward an actual move in the near future (I've been there for some time but he's really getting closer on this point) and the more I destash the less that would need to be moved when that time comes. I even set one of my first 100 days goals as a destash of 50 yards to get this ball rolling in the right direction. So let's see how I did this month ....
Early January and late January are 2 local quilt shows, usually I attend the later one but this year I elected to attend the first one. To me it

was a bit small and many of the vendors were not quilt related so I will be sticking to the usual one next year. This didn't stop me from finding a few pieces of loveliness that came home with me.
In total it's only

+2

yards worth and I really hope to get started on that pattern some time soon -- I'm told the top can be made in like 6 hours. Isn't that wooden bear paw delightful -- the artist is a Mennonite
who lives in Virginia.
As for the rest of the month I did get in some sewing ---
I made my bee blocks this month -- about

-2

yards used
Stash Bee hive mate Kirsten (kirstens creations) wanted Double star blocks in a Christmas / Winter theme.
Bee Hive Mate Sylvia (Flying parrot quilts) wanted union Jack blocks to make into a quilt for her husband. Molli Sparkles has a well written tutorial on making these blocks (and no they aren't paper pieced).
I also managed to make 48 Tula blocks by mid month and then I completed pulling most of the fabric for the remaining blocks before month's end.
I worked on my Honda Scout Quilt as a part of my OMG Challenge --
I finished up the top and got the backing made (
-7
yards)
I completed my Cotton and Steele Pixelated Heart (

-2

yards) -- this was my first finish of the year and it's already off to be in a very special new home.
Made a little progress on making backings for Spellbound and Kaleidascope. (

-6

yards)
I have an quilt top that I made from quilt cutoffs that I made a backing for and it's ready for quilting (

-3

yards)
Did a serious fabric pull for an upcoming destash.
I did get the Cat Lady Fabric bundle from Cotton and Steele -- as a late Christmas gift. (

+5

yards)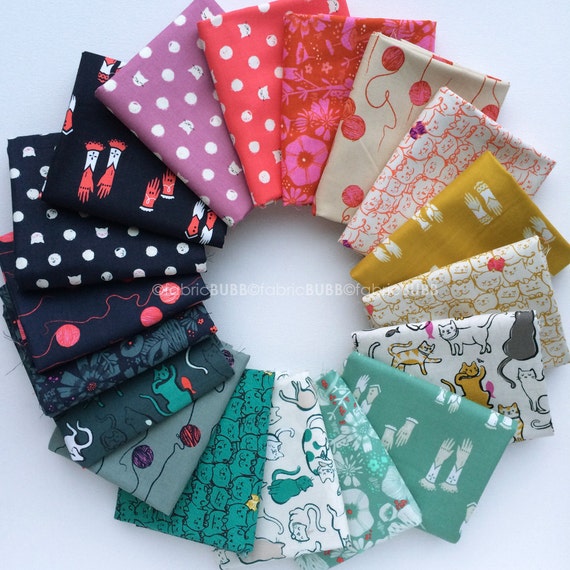 Late in January there was a snow storm in NC and this meant lots of sewing happened -- YAY!!
I put together my sample Wanta Fanta block that I greatly altered for my bee Hive swarm to make for me next month and then the Stash bee hive 6 ladies will be making in March (

-1

yard -- since I have a few more that I will make)
I also have swaps coming up in February and March so fabric was pulled and plans have been started for both the Skinny Mini and Kitten Mini that I am very excited about making.
First month of 2016 in the books and I added

+7

yards to the stash, used

-21

yards,
started several projects
and pulled way more that will be destashed soon. I wound up being
-14
yards so far for the year -- well on my way to -50 by the end of the 100 day challenge.
Linking up with
Molli Sparkles