If you missed it Michelle and I are supporting each other and a few other brave souls that have taken up the 100 modern block project from Tula Pink.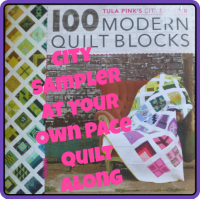 My (lofty) goal was to make the 70 blocks for the layout that I want to make -- in time for Stash Bash (which is in a month). So let's see how I did this month and how many blocks I added to the 3 that I completed last month. (note to stay on track of one per day I needed to get to 40 blocks completed)
#4: block 9
#5: block 10
#6: block 11
#7: block 21
#8: block 22
#9: block 23
#10: block 27
#11: block 57
#12: block 63
#13: block 69
#14: block 72
#15: block 73
So this half month's progress is 12 blocks, meaning that I have completed 15 of 70 for the project. Meaning that I need to complete 2 block per day before Stash Bash, if I am going to have all the blocks made before hand and be able to assemble it during the retreat.