If you missed it Michelle and I are supporting each other and a few other brave souls that have taken up the 100 modern block project from Tula Pink. The link up is on the 15th of each month.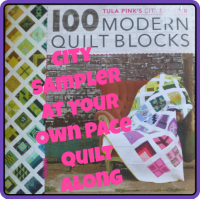 My (lofty) goal was to make 25 blocks per month and have the quilt completed within the year. Well upon further review of the TPCS book I only actually need to make 70 blocks for the layout that I want to make -- WHAHOOO!!

So I started first by taking my book to Office Depot and having it spiral bound -- this makes a huge difference in the accessibility of the book and honestly if I had done it before I might have started the project before now. It was a $5 fix and now the book lies flat and I can easily see things without fighting with the book.
On to the progress that I made with the actual blocks -- since i'm not making them all I was selective about the ones that I made and am not going to be doing them in any sort of order. I am making friends with little post it notes so that I will know which blocks I have made and not repeat myself, this will also help me know how many blocks I have completed along the way.
#3: Block 7
So this half month's progress is 3 blocks of 70, next post will be a whole month so I hope to have many more blocks completed then. Maybe I can complete them all before stash bash and have a fun project to assemble while I am there -- that's some lofty goals as stash Bash is less than 2 months away and i know i have a few other things that will need to be completed before that time.
Are you working on the Tula Sampler too? Then head on over and link up with Michelle.